Brandywine tomato
Heirloom tomato seeds aren't any more difficult to plant than hybrid tomato seeds. The trick is finding the seeds you want to grow — and there is quite a variety!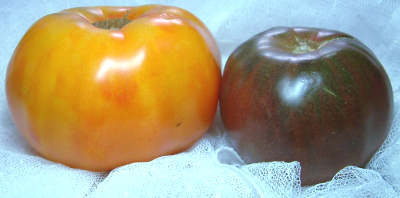 But before I talk more about the seeds, let's talk a little about what makes an heirloom tomato an heirloom.
About Heirloom Tomatoes
So what exactly is an heirloom tomato — what makes it different than "regular" tomatoes?
First of all, heirlooms are produced naturally from seeds. In other words, if you save seeds from an heirloom, the resulting plants will be just like the parent. Not so with a hybrid tomato, because you'll never know what you'll get! This is because a hybrid is a cross between two varieties, neither of which may be great on their own (but wonderful together).
So that's one; an heirloom produces plants like itself. The next is how long the plant has been producing tomatoes; that is, how many generations have been produced with consistent results. I've heard quite a few different numbers — 100 and 50 seem to be the two that pop up the most. Some people use the year 1945 as the cutoff; if the tomato variety was growing in 1945 with consistent fruit results, the plant can be considered an heirloom.
One other thing about heirloom tomatoes is their taste! In general, the heirlooms produce fruits with a full, rich tomato taste.  Many of the heirloom varieties produce big fruits — beefsteak or larger. If you love tomato sandwiches, you'll love these tomatoes.
There is one downside, though. Heirloom tomatoes are pretty strong growers, but they are not necessarily disease-resistant. So especially if you live in a hot and humid climate, you need to keep a closer eye on your heirlooms. (But it is worth it!)
Heirloom Tomato Seeds
There are tons of varieties or heirlooms out there, and I've tried many of them in my day. But I keep coming back to a few that are tasty, but that also have fun results! I like red tomatoes for sure, but I also get a big kick out of the purple and the striped tomatoes. That being said, here are a few of my favorite heirloom tomato varieties.
Brandywine Pink:  Whenever I ask my husband what tomatoes he'd like me to grow, Brandywine always tops the list. I love the big fruits and the juicy meat of this heirloom tomato. The seeds germinate fairly quickly and transplant easily. The problem for me, though, is that it just isn't a prolific producer of tomatoes in hot and humid climates.  I get maybe one fantastic tomato (huge), a couple medium-sized and maybe one or two small ones.  When it gets really hot and humid, no more tomatoes.  But for taste…I don't think I've had another variety beat it (yet).  Brandywine Pink is an indeterminate potato-leaf plant, mid to late season.  And be warned — the plants can get huge.
Cherokee Purple:  This is a fun tomato because it's purple! OK, it's not the kind of bright purple you might be imagining; it's more of a dusky violet. The name comes about because it's believed to have originated among the Cherokee people, and is over 120 years old. These are big tomatoes, which seem to average between 10 and 12 ounces. Sweet and meaty, they are great for salads and sandwiches. But the purple does take a little getting used to.  Thin-skinned, you will need to eat these soon after picking.  Cherokee Purple is an indeterminate tomato that is mid-season.
Kellogg's Breakfast:  This is an orange beefsteak tomato.  Now orange tomatoes have the reputation of being milder-tasting, but not so with Kellogg's Breakfast — it has a full-on tomato taste!  I've grown it in the ground and in (big) containers — grew well both ways.  The tomatoes were big and the plants were surprisingly prolific for such a large beefsteak.  Kellogg's Breakfast is an indeterminate regular-leaf tomato, and the plants can get very large.  There is also a Kellogg's Breakfast version (KBX) that is potato-leaf plant, but I have never grown it.  Mid-season.
Red Pear
:  I cannot resist these cute little tomatoes!  Cherry-sized, perfect for salads or garden snacking (the fate of most of mine – few actually make it into the house).  As you may guess, they are pear-shaped.  Not the sweetest, but it is tasty and does tend to be prolific!  The plants I have grown tended to be manageable in size, and grew well in the ground and in a container.  Indeterminate, regular leaf, mid-season.
Big Rainbow:  The last of the heirloom tomato seeds I'll talk about today is one that bears monster fruits — Big Rainbow. It's also a striped tomato color, with gold and red, so it's very pretty to look at. Not to mention great to eat! This heirloom tomato can get fruits up to 2 pounds in size! Naturally that's with optimum growing conditions, but 1+ pounds tomatoes can be expected on average. This tomato is also exceptional in that it's one of the more disease-resistant of the heirlooms. (Reason enough to grow it.) Big Rainbow is an indeterminate, requires strong staking (possibly multiple stakes). It bears fruit roughly 90 days out, so only think about growing it if you have a long growing season.
So there you go; some wonderful heirloom tomato seeds for you to consider planting. For additional information on planting, check out the post on planting a tomato garden.