experiment hybrid tomatoes
This year in my tomato garden instead of growing heirloom tomatoes, I am growing all hybrid tomatoes. So why the change? It's because I'm doing hybrid tomato experiment. Let's see what's going on.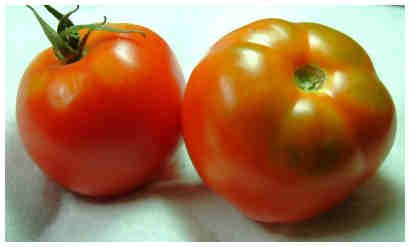 A Review of Hybrid Tomatoes
So what is a hybrid? A hybrid is a plant that has two different parents. For example one parent can be a red tomato and the other parent can be one colored yellow. In my particular case I have a tomato plants that had two very different parents. One parent was a white tomato, and the other parent was a red tomato.
How do I know this? It's because I have a packet of seeds for a white determinate tomato, and from that packet I got a plant that was an indeterminate red tomato. This means that my red tomato was a hybrid. An accidental hybrid probably, but it's a hybrid nonetheless.
The F1 Generation
That red tomato that grew from a packet of white tomato seeds, was an F1 hybrid. But what is an F1 hybrid? It's the first generation from a cross between two different parent plants.
Since I grew out more seeds from that particular packet and I got white determinate tomatoes, I suspected that my red tomato was F1 hybrid. However, I would not know that until I planted seeds from those red tomatoes.  (The photo is of two of the fruits off the F1 plant.)
This year I planted eight seeds from the red tomato plant. And what did I get? I've got both indeterminate and determinate plants. This means that my red tomato was indeed an F1 hybrid cross.
The F2 Generation
My eight little plants growing this year are the F2 generation. These are the progeny of my F1 plant. What can I expect to get? Determinate and indeterminate certainly, but what about tomato size and color? That's where things get interesting.
When it comes to tomato genetics, the color red is dominant over any other color. This means that I will undoubtedly get red tomatoes, can I expect any other color?
It's hard to say. I might get some white determinate tomatoes, but with only eight seeds planted the chances are slim. That isn't to say that I won't get lucky!
My F1 plant had red tomatoes that were been 3 and 5 ounces each in size. However the white determinate tomatoes that I planted, had fruit that were about 7 ounces each. My hope is that I can get some nice red tomatoes in the 6 ounce size range.
As for the determinate plants that I have growing, I expect they will be red. However, you never know what kind of colors might show up; after all, this is a hybrid! And I have no idea what that red tomato was crossed with. The only thing I know for sure is that it was a determinant.
So stay with me, and we'll see what these plants turn out to be. But I'll keep you posted through the growing season. It certainly will be an interesting hybrid experiment!